Cru Vallet, Off to Conquer the World
Cru Vallet is already sold abroad in eight importing countries. One of our partners, Fabrice Maudet, suggested the idea to us of an international market study. The aim of this initiative is to better understand the perceptions and expectations of operators in each country around the world. Our producers have helped to select influential ambassadors, including sommeliers, journalists and bloggers, in the countries with which they work.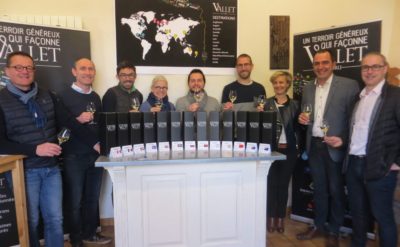 Step one, shipping samples to 13 destinations on five continents:
On 16 April 208, packages containing a presentation of the Cru, a questionnaire and samples will be shipped from Vallet to 13 different destinations:
UK, Angola, Australia, Sweden, Canada, China, India, Iceland, Israel, Mexico, New Zealand, the Dominican Republic and Russia.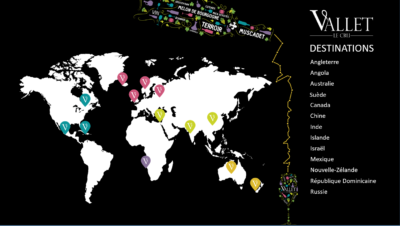 On receipt of the packages, ambassadors will be expected to taste the Cru Vallet wines then publish their reviews and favourites.
All comments will be posted as we receive them on our social media accounts: Facebook, Instagram and Twitter. The feedback will also be used for a market study which will be presented at the end of the year.