Cru Vallet Week
An Ambassadors' Evening is being held by the winegrowers of Cru Vallet.
Six months ago, a number of bottles of Cru Vallet were dispatched to some 15 ambassadors around the world. The aim was to collect tasting impressions for the Cru and feedback on its export potential. This feedback will be shared at the Ambassadors' Evening.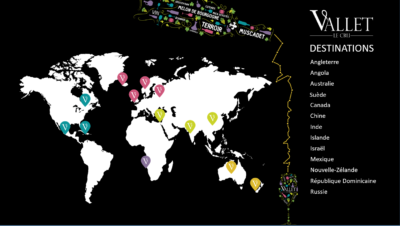 This private event will take place at Champilambart (Vallet's Cultural Centre) on 9 November 2018. As part of the 'Concerts du Cru' programme, singer Victoria Delarozière will be performing during the evening alongside tastings of Cru Vallet wines.
Come to Vallet market on 18 November for a large-scale tasting of Cru Vallet wines.
On 18 November, all of the Cru Vallet producers will come together for a large general public tasting. The event is open to all and will take place in the atrium of Vallet town hall during the Sunday market.
Keep up to date with all Cru Vallet news by following us on social media: Facebook, Instagram and Twitter.