Cru Vallet is growing
Four new winemakers in the association
The Cru Vallet are happy to count four new winemakers within the association:
Philippe Guérin, Domaine Guérin.
Mickaël Tessier, Domaine de l'Echasserie
Karine and Pierre Sécher, Domaine de la Gravoire
Jean-Yves Bretaudeau, Domaine du Colombier
Le Cru Vallet now has 25 domains. A group of dynamic winemakers who are growing with always the same desire to highlight the specific soil of Cru Vallet.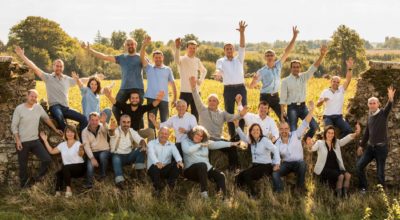 Why did they choose to join the Cru Vallet? :
"Our adherence to Cru Vallet is motivated by our belief that our lands allow the vine to produce great wines and by our attachment to the Muscadet appellation.»Karine and Pierre Sécher, Domaine La Gravoire
"Having already been a part of the Muscadet's growth process for 18 years, with Mouzillon-Tillières, I was eager to offer my customers a second Cru. The dynamism of the Cru Vallet and being able to value a different terroir gave me the desire to produce and vinify Cru Vallet. This is now done with the 2018 vintage that I can not wait to enjoy." Jean-Yves Bretaudeau, Domaine du Colombier